With 700 million internet users in China, the dominant Chinese search operator is banking on its Xiaoyu robot to give it home turf advantage.
Baidu, the operator of China's dominant online search engine, has unveiled a voice-controlled home robot as the company ramps up its efforts to promote a Chinese version of Amazon Echo or Google Home to the country's more than 700 million internet users.
Running on Baidu's artificial intelligence assistant platform DuerOS, the robot – which answers to the name Xiaoyu (小魚), or small fish in English – is said to be able to help Chinese parents better take care of their children amid a busy work schedule.
"Home is an important field for Baidu to put artificial intelligence technology in people's everyday life," said Lu Qi, Baidu's chief operating officer and a top level AI expert.
Compared with Amazon Echo or Google Home, which use speech recognition to control various home devices, Xiaoyu's family interaction-centred feature is likely to have a bigger globalisation potential, said Lu, who joined Baidu earlier this year from Microsoft to steer the company's transition from a mobile-focused to an AI-focused firm.
With video chat and streaming capabilities, the robot can be remotely controlled by parents to sing a song or teach English to their children, a feature that is designed to fit the demands of urban Chinese families.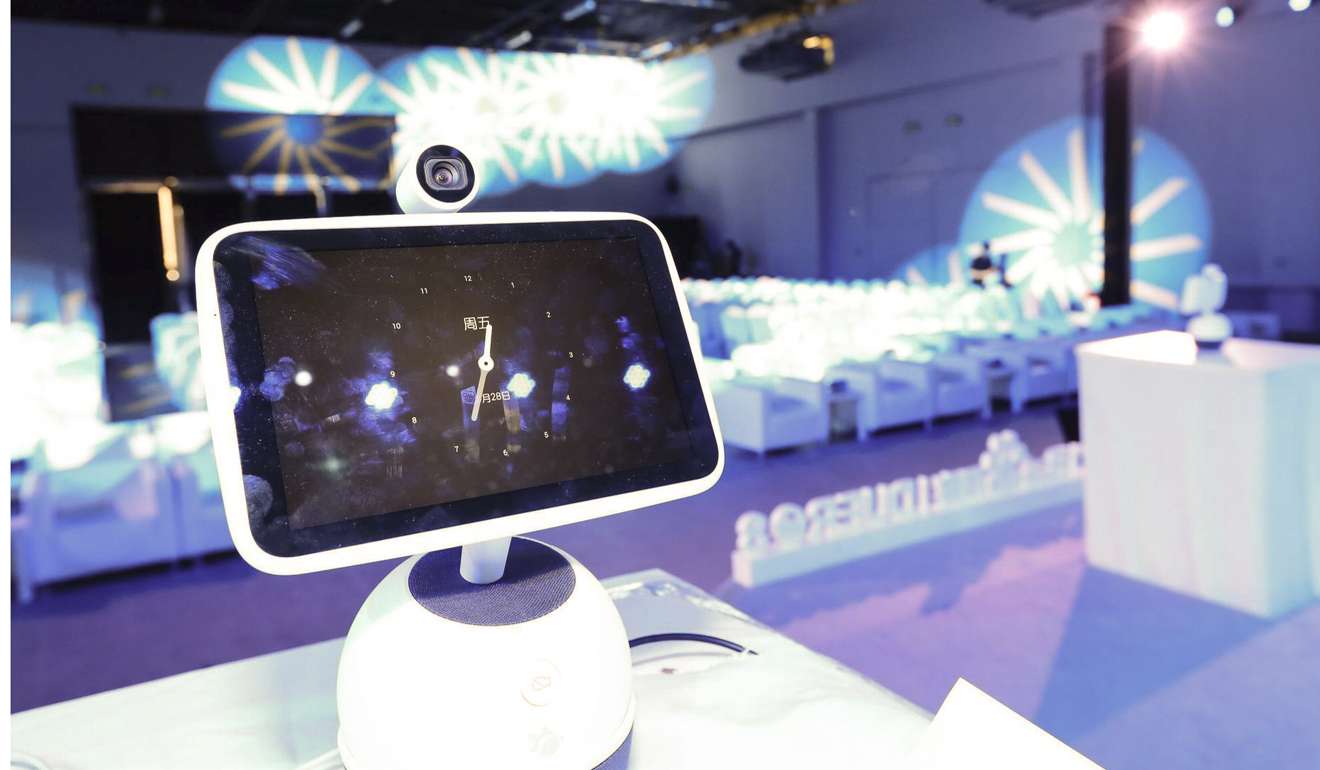 With a price tag of 3,299 yuan (US$478), Xiaoyu is Baidu's first major step into the smart home market and the latest effort by the Beijing-based company to commercialise AI, a technology Baidu founder Robin Li Yanhong has bet big on to revive growth.
Baidu, known as China's Google, is entering a critical year after revenues grew at their slowest pace in 2016 due to tighter government regulations of online advertisements and fierce competition from local rivals such as Tencent Holdings and Alibaba Group. Alibaba owns the South China Morning Post.
On Friday the Nasdaq-listed company posted its first rise in revenue in three quarters, indicating early signs of business recovery. Its first quarter revenue in 2017 rose 6.8 per cent year on year to 16.9 billion yuan (US$2.45 billion).
However, projected revenue in the second quarter is between 20.47 billion yuan and 20.98 billion yuan, failing short of analysts' estimates of 20.94 billion yuan, triggering a decline in its shares by as much as 6.3 per cent in extended trading after closing at US$187.86 in New York on Thursday.
"We remain cautious on Baidu. There is some modest improvement in advertising revenue but costs are rising for online video. The company's focus remains monetisation of AI and machine learning but this will take some time and the departure of Andrew Ng isn't a sign that things are moving quickly," said Kirk Boodry, an analyst with New Street Research, which has a "neutral" recommendation on the stock.
Baidu focuses on AI as founder Robin Li hires new management team
Robin Li emphasised in the conference call following the financial results that the investment in AI is a long-term proposition with dividends that will be paid over the medium to long-term.
The company has already applied AI in its existing products, including search and financial services. For example, the technology has been used to optimise its search results and intelligently match users with the right financial products and assess credit risks.
Baidu also announced that Jennifer Li intends to step down as the company's chief financial officer, a position she has served for nine years, in order to take on the role of chief executive of Baidu Capital, an investment firm.
She will contribute to "building Baidu's ecosystem, which is crucial in bringing AI to real world applications", the company said at the same time as releasing its first quarter financial performance.
This article appeared in the South China Morning Post print edition as:
Baidu offers home robot in shift to AI-focused firm
This article was published on scmp.com by Meng Jing