When you're forking over a fortune for the latest iPhone, the last thing you're probably thinking about is paying even more for "what if" scenarios. But cracking your iPhone screen is bound to happen. Trust me: Happy hour drinks and uneven pavement do not mix.
But how much should it really cost to fix a cracked iPhone screen? In a perfect world, nothing.
In this world: Damaged iPhones have cost Americans $10.7 billion since 2007, according to a study done in 2014 by SquareTrade, which is — full disclosure — a company that provides warranties for iPhones and iPads.
Outside of warranty, repairing your cracked iPhone screen will typically cost $129 to $149 if you get it fixed by Apple.
Don't have an emergency fund you could use to pay that $100+ fee? You should!
Just like with health or home insurance, it is much better to be financially prepared when disaster strikes. Think of it as a "peace of mind" payment; even if you never end up using it, you can rest easy to know that you're covered.
The case for AppleCare+
Whether it's for a plane ticket or a new sound system, you've probably been asked, "would you like to purchase insurance with that?"
With your iPhone, get that insurance, or else you might be asking "new phone, who dis?" earlier than you might like.
I've cracked my iPhone screen probably eight times in my life, and almost every twentysomething I know has shattered their screen at least once. I didn't splurge for AppleCare+, and I've felt all types of #regrets.
I've gotten my screen replaced for $120 and up, and constantly question the quality of the replacement screens, as they seem to be crack even when gingerly dropped. After reaching out to my social network about where they get their screens replaced, most people touted AppleCare+ as the best screen saviors.
"If you're willing to pay more upfront at purchase, I'd go with AppleCare+," says Luke Villapaz, who has used it in the past. "It's a great option if you're catastrophically clumsy with your phone. … not so great if you're the type that straight up loses their phone often."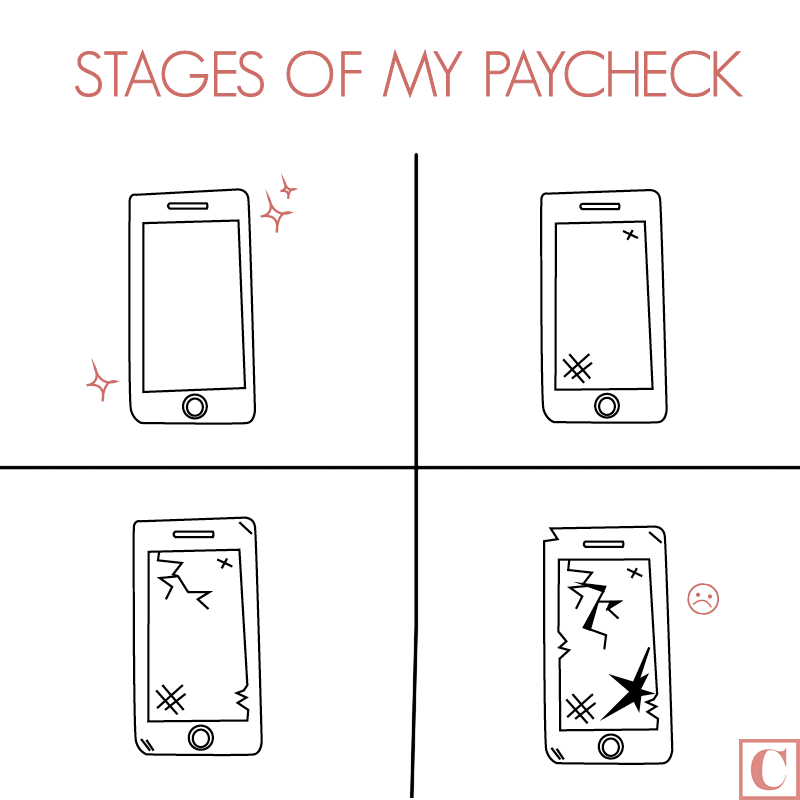 While every iPhone comes with one year of hardware repair coverage as part of its limited warranty, AppleCare+ from Apple extends that coverage for two years and adds up to two incidents of accidental damage, with a service fee of $29 for screen damage or $99 for any other damage.
This is definitely a deal worth taking advantage of if you know you'll be dropping your phone at least once in the next three years. And TBH, you probably will.
Currently, AppleCare+ can be bought for iPhone 7, iPhone 7 Plus, iPhone 6s and iPhone 6s Plus for $129 when you purchase your new iPhone. It can also be bought within 60 days of your iPhone purchase.
Don't forget; if you're dropping a lot of cash on a new smartphone, make sure to really maximize your money by using a cash back credit card.
Protect what you have
Of course, it's always smartest to protect your screen to prevent it from cracking in the first place!
Personally, I use Tech Armor's Ballistic Glass Screen Protector. You can get one for as low as $6, and they really do a great job at preventing scratches and small cracks. ZAGG Invisible Shield screen protectors also come highly recommended. For an iPhone 7, prices start at $14.99 and go up to $49.99.
"Once you buy one they'll replace them for free you just have to pay shipping. I've probably gotten 10 from them," says Tori Sellers, an avid ZAGG user. "You just have to send the cracked one back to them in an envelope they provide that already has postage."
Source : bankrate.com