Update: iOS 10.3 is now iOS 10.3 with a handful of new features launched for your iPhone. Apple just upgraded it to iOS 10.3.1 with to solve some linger iOS 10 problems and is currently testing iOS 10.3.2 beta right now and we're getting very close to iOS 11. We even have a likely beta launch date for iOS 11.
Here's everything about iOS 10 and how your iPhone is about to get better.
---
Apple's iOS 10 update for your iPhone and iPad really lives up to the milestone software version number, bringing major changes to your daily phone and tablet routine. iOS 10.3 compounds that.
You won't even recognize portions of the interface; that's how different things are. But don't worry, almost all of the new iOS 10 features are for the best – and absolutely free to download today.
iOS 10 launched alongside watchOS 3 for the Apple Watch last September, and just before macOS for MacBook Pro 2016 in October, after they all made their big debut at WWDC 2016 in June.
We've been playing with the new iPhone and iPad software since the iOS 10 beta stage, and we're still discovering new features with the new iOS 10.3 version.
You'll need some time to wrap your head around the new functionality of this mobile operating system, so we went ahead of broke it down for you. Here's what we've learned about iOS 10 through iOS 10.3.
Watch our hands-on review of the iPhone 7
When does iOS 11 launch?
iOS 10 isn't done yet, but Apple is already teasing iOS 11 ahead of the WWDC 2017 keynote. The event kicks off on June 5 in San Jose, California.
That's when you can expect your first glimpse at iOS 11 features and the official iOS 11 beta, as well as a possible watchOS 4, macOS 10.13 and tvOS 2.
We foresee more tablet-focused software tweaks, especially as the iPad Pro 2 launch date is widely rumored happen anywhere from April to September with the iPhone 8.
However, before all of that occurs, we're due to get one more big update – iOS 10.3. Let's start there and work our way backward on all iOS 10 features.
iOS 10.3 new features
iOS 10.3 launched on Monday, March 27

iOS 10.3.1 arrived on April 3 with bug fixes

Adds a Find My AirPods to the Find My iPhone app
Your iPhone is changing yet again, as Apple just launched iOS 10.3 to everyone, not just beta testers. It's an incremental update, but an important one for AirPods owners.
The new feature helps you track down your new Apple wireless earbuds case. It also plays music through each AirPods in case you lose one.
That's the only major improvement we see in iOS 10.3, however, there are likely performance improvements, as we're currently experiencing with Siri.
Siri can now check pending bills on payment apps, schedule ridesharing trips and monitor your car locks, fuel and lights for certain automakers.
iOS 10.2 features
Over 70 new emojis like shrug and fingers crossed

Additional camera and TV app settings

Celebration and Love message effects and three new wallpapers
iOS 10.2 debuted over with the adoption of Unicode 9 characters. Your iPhone is now the shortest way to express a 'shrug' and 'fingers crossed.'
Hate constantly having to fiddle with camera setting each time they reset upon closing the app? Well, there's a new configuration that lets you preserve them.
The 'Preserve Settings' camera submenu lets you lock in the camera mode (such as video, square, portrait), the photo filter (like chrome, mono and instant), and Live Photo (in case you want it off by default).
New full-screen message effects debut in iOS 10.2
iOS 10.2 also jazzes you with a new 'Celebration' and 'Love' full-screen message effects. It also adds three new wallpapers of different colored droplets. They're artsy, but not groundbreaking.
There's a new pre-loaded app from Apple and good news: you probably won't want to immediately delete this one. It's the all-new TV app.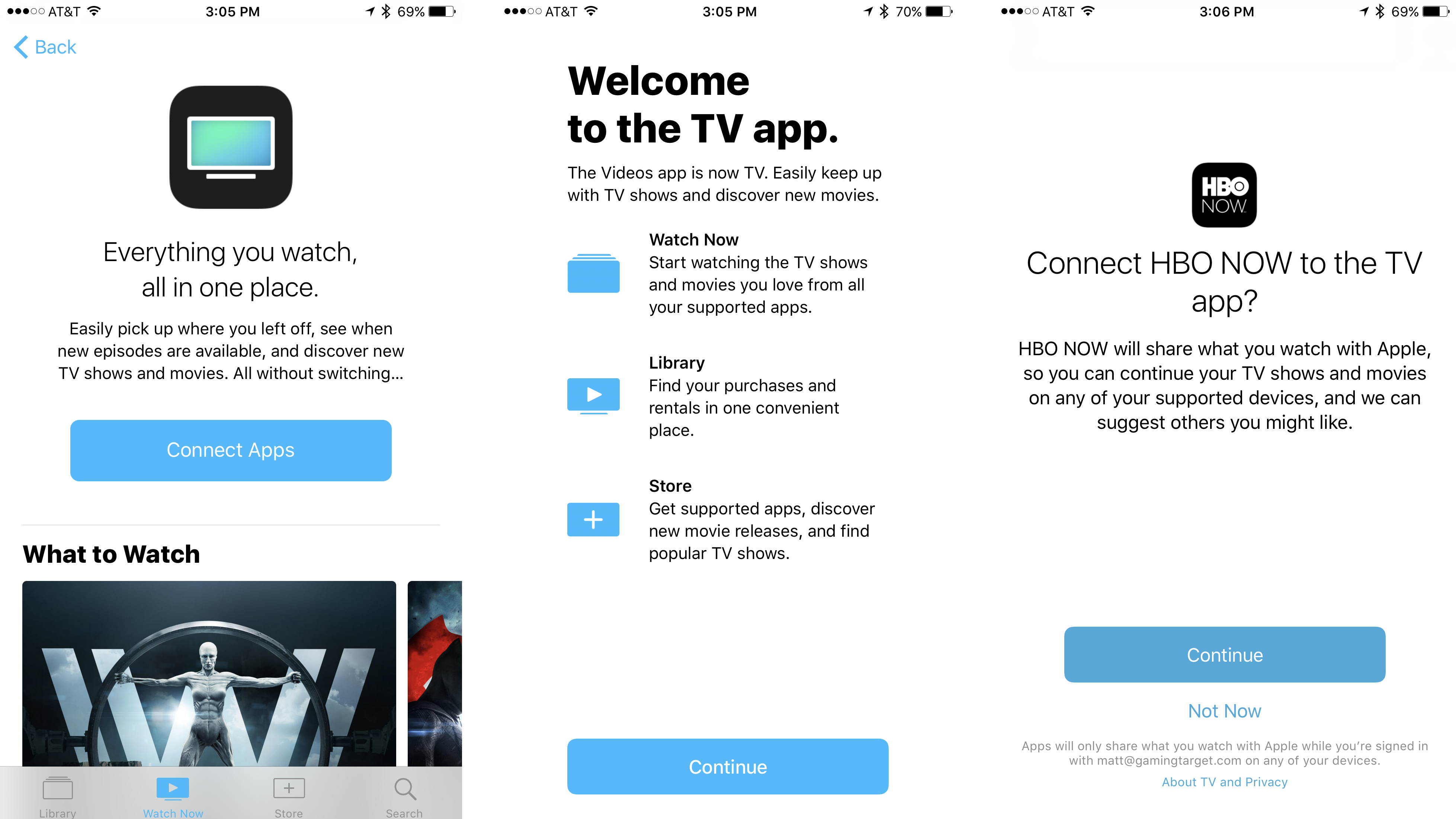 The opening menus to the new iOS 10.2 TV app
It pulls from sources like iTunes and streaming services like HBO Now and Hulu. US networks like Fox, CBS, The CW, AMC, Comedy Central and Starz are here too.
The great thing about this is that, as you log into each, the TV app's 'Watch Now' tab begins to populate with shows you are or should be watching. It breaks down the barriers between the different video apps out there.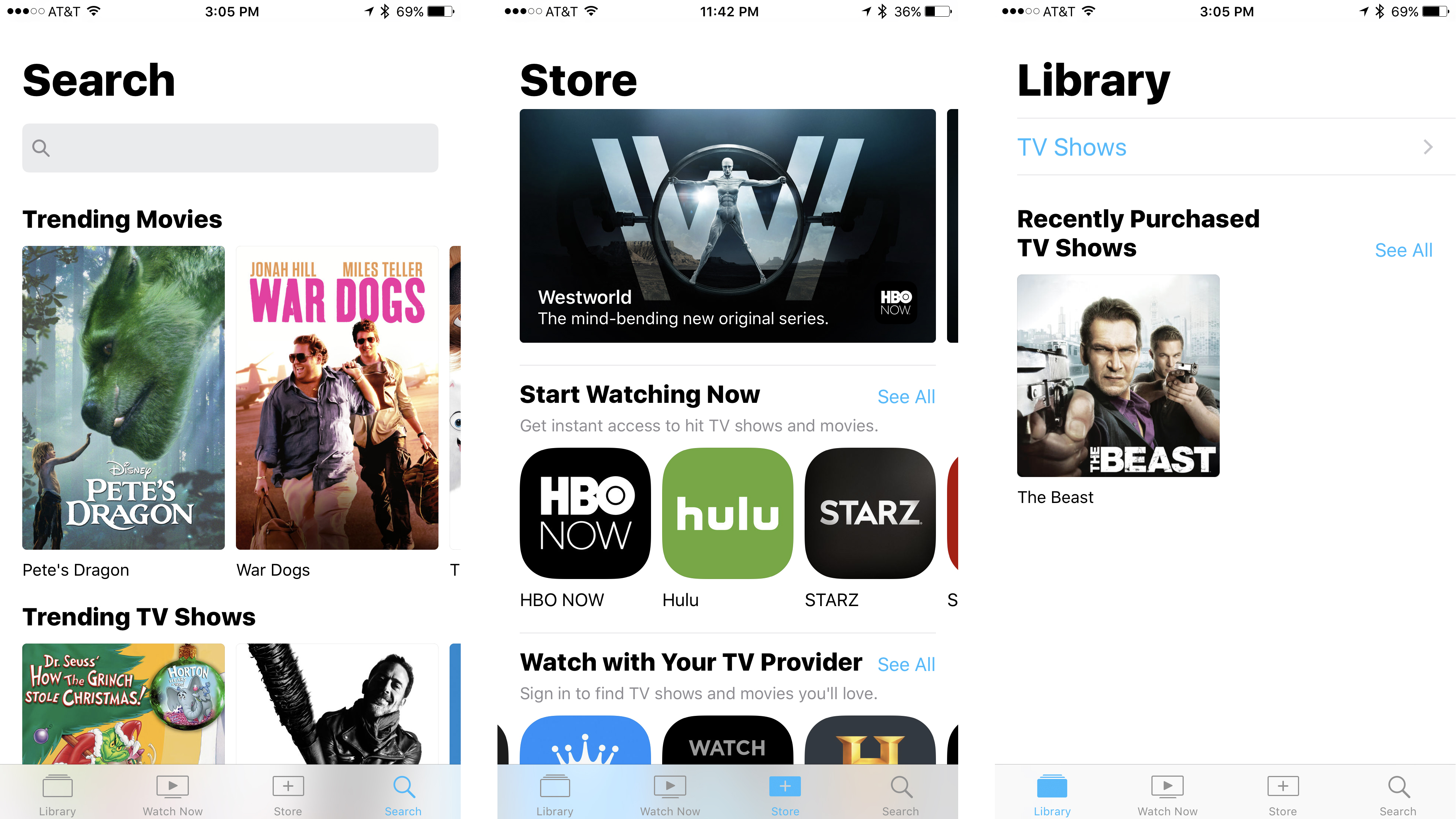 See 'The Beast' (right), carried over from the VIdeos app
Apple's TV app is supposed to replace the neglected Videos app (but for some users, both apps are present). There's no need for two now. The new app added our one and only TV show episode (a free iTunes promo from 2009) that 'Videos' had been carrying around. That tells you something about its past usefulness.
There's thankfully a lot more to the all-encompassing TV app. Behind in scenes, there's also a new settings menu for 'TV Provider.' It's designed to let the TV app pull from subscription services like Dish and .
Basically, the new TV app delivers TV content no matter where it's sourced from. It really breaks down the walls between siloed video apps on your iOS device.
Pro tip: There's no Netflix channel in the 'Store' tab, but you can add individual Netflix shows through the 'Search' tab. Just search 'Black Mirror' and you'll see a list of all three seasons that lead to any episode you want in Netflix.
Don't see the iOS 10.2 TV app just yet? You're not alone, actually. We didn't see it until iOS 10.2 beta 6 and it may not launch outside the US immediately. As they say in TV, stay tuned.
iOS 10.1 features
iOS 10.1 introduced Portrait Mode photos on iPhone 7 Plus

Also added message replay functions and fixes bugs

But iOS 10.1.1 users reported severe battery drain
Although Apple launches iOS 10 right on the nose on Tuesday, September 13 at 10am Pacific, it returned with another set of tweaks just 41 days later.